Phonics
Intent
At Staincliffe CE Junior School, we believe reading is a key life skill which makes all other learning possible and that phonics is crucial to unlocking the reading code. We aim to provide quality teaching of phonics to children so they have the required skills to read, which starts with the foundations of acquiring letter sounds, segmenting and blending skills.
Implementation
Children are tested using the tests from Rapid Phonics to ensure they receive the correct step of phonic teaching

Daily phonics sessions are delivered through a high quality synthetic phonics programme- Pearson Rapid Phonics. Rapid Phonics is an intervention scheme for children that has clear structured progressive lessons.

Each lesson consists of Review, Teach , Practise and Apply in both reading and writing

High quality decodable reading books published by Pearson are given to each child linked to their step. There are other books linked to the sounds the children are learning from Collins.

Children are assessed when they have finished the step or when they are making accelerated progress which identifies the children who need more practise on the phase , ones that could progress onto the next step,
Phonics is a way of teaching children to read quickly and skilfully. They are taught how to:
recognise the sounds that each individual letter makes;

identify the sounds that different combinations of letters make - such as /sh/ or /oo/; and

blend these sounds together from left to right to make a word.
Progression through the programme:
Rapid Phonics is divided into 3 core steps, each with fine levelling:
Step 1: Alphabet phonemes and very visually simple sentences.
Steps 1.2 – 1.5: CCVC and longer words and simple sentences.
Steps 2.0 – 2.5: Digraphs and trigraphs and more complex sentences.
Steps 3.0 – 3.2: Alternative spellings and more complex sentences.
Each of the phonic phases are covered in the programme:
Phase 2 – Simple letter sound correspondence
Phase 3 – Introduction of consonant digraphs and long vowel sounds
Phase 4 – Consolidation and reading and spelling words with adjacent consonants
Phase 5 – Learn final graphemes, alternative pronunciation and spelling of known graphemes.
Phonic Provision is in place for children who:
have not met the required standard in the KS1 phonics test;

are new to the country and have no previous experience of English;

have a particular SEND need and are finding decoding difficult.

lower ability children who still need phonics as they haven't completed all the sounds
Children will be taught in small groups by a TA/Teacher who have received phonics delivery training.
The lesson is for 40 minutes - 30 minutes phonic teaching and 10 minutes of reading where the TA listens to children read their phonic reading book.
Impact
Children can decode, segment and blend confidently.

Children feel successful in reading and are more willing to read more books as they are matched to their needs.

By implementing high quality intervention correctly the children make progress through the phases and become fluent confident readers.

Children can spell common exception words and high frequency words.

Children are confident to read aloud in front of others.

Children have a range of strategies to correctly spell and read familiar and unfamiliar words.

Children no longer need phonic intervention.

Children can apply their phonics skills across reading and writing in Literacy and other areas of the curriculum.

Children can confidently talk about their learning in phonics using appropriate vocabulary.
There are 6 phonic phases:
Phase 1
In Phase 1 phonics, children are taught about:
- Environmental sounds
- Instrumental sounds
- Body percussion (e.g. clapping and stamping)
- Rhythm and rhyme
- Alliteration
- Voice sounds
- Oral blending and segmenting (e.g. hearing that d-o-g makes 'dog')
Typical activities for teaching Phase 1 phonics include 'listening' walks, playing and identifying instruments, action songs, learning rhymes and playing games like I Spy.
This phase is intended to develop children's listening, vocabulary and speaking skills.
Phase 2
In Phase 2, children begin to learn the sounds that letters make (phonemes). There are 44 sounds in all. Some are made with two letters, but in Phase 2, children focus on learning the 19 most common single letter sounds.
By the end of Phase 2 children should be able to read some vowel-consonant (VC) and consonant-vowel-consonant (CVC) words, and to spell them out.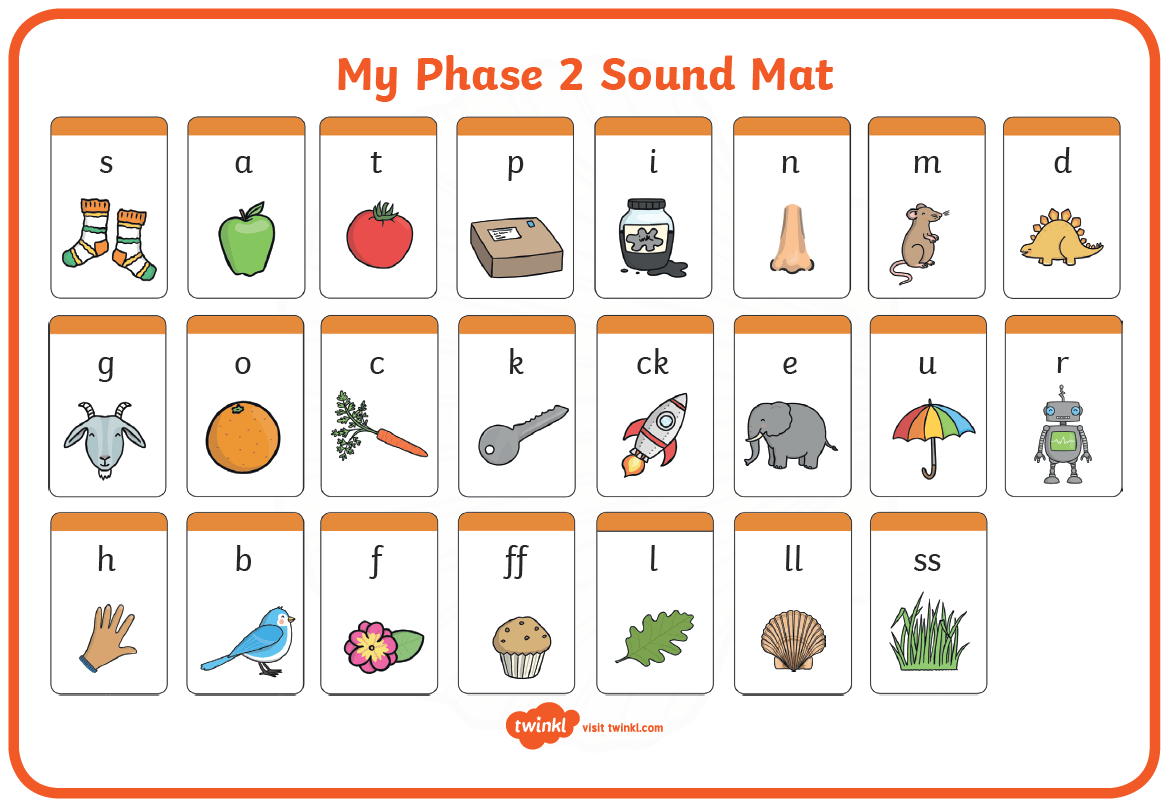 Phase 3
Phase 3 introduces children to the remaining, more difficult and/or less commonly used phonemes. There are around 25 of these.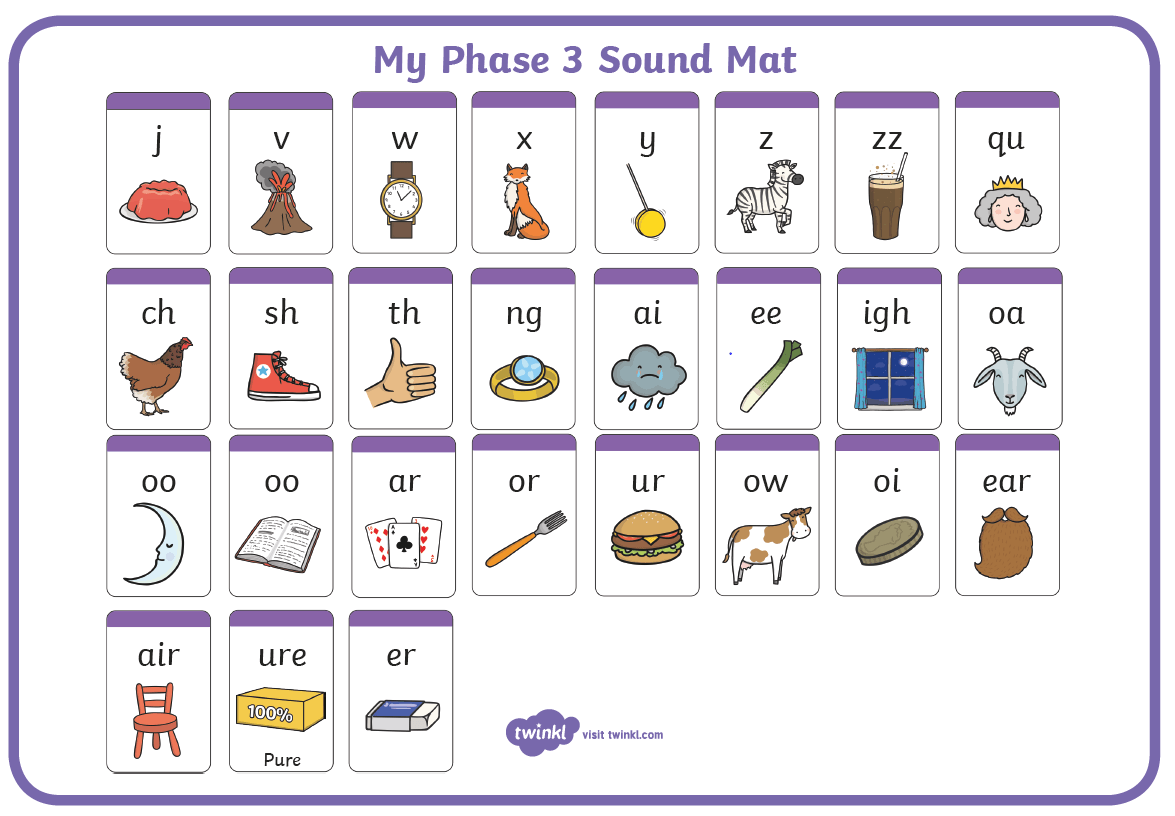 Phase 4
In Phase 4 phonics, children will, among other things:
Practise reading and spelling CVCC words ('bump', 'nest', 'belt,' 'milk', etc)
Practise reading and spelling high frequency words
Practise reading and writing sentences
Learn more tricky words, including 'have,' 'like,' 'some,' 'little'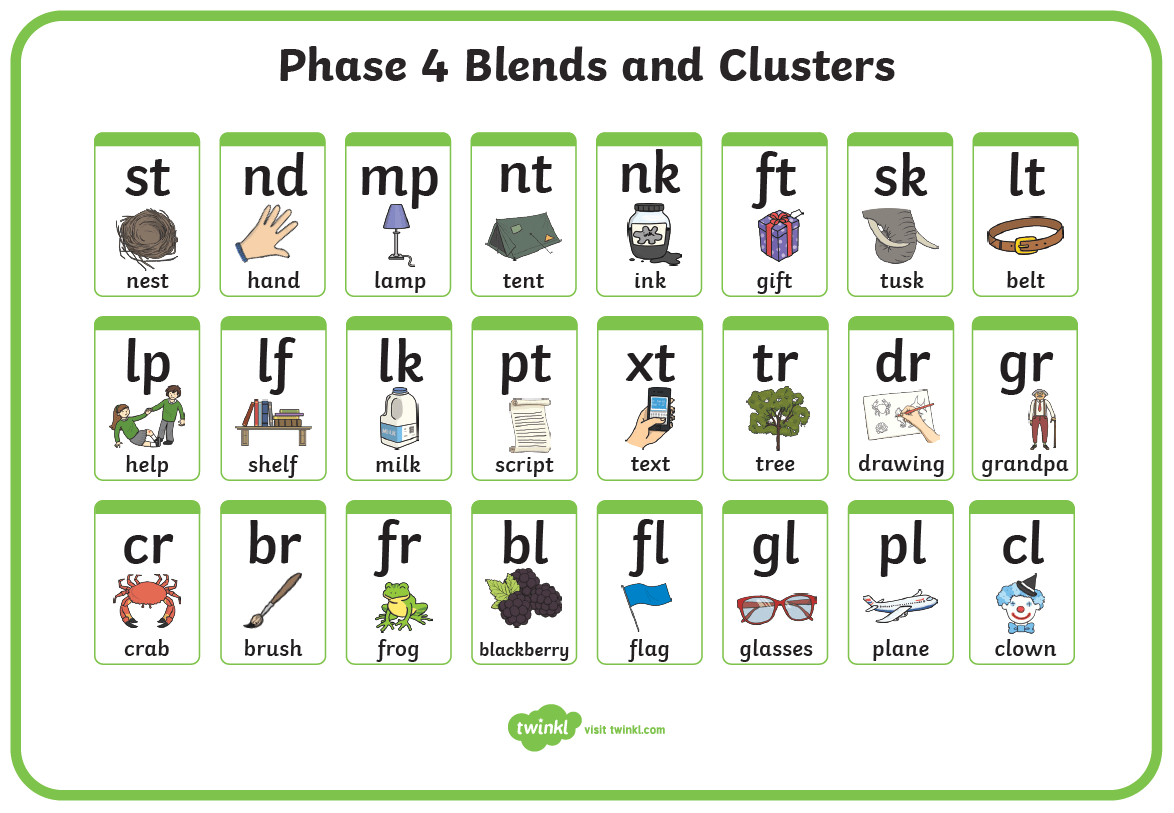 Phase 5
Children learn new graphemes (different ways of spelling each sound) and alternative pronunciations for these: for example, learning that the grapheme 'ow' makes a different sound in 'snow' and 'cow'. They should become quicker at blending, and start to do it silently. They learn about split digraphs (the 'magic e') such as the a-e in 'name.' They'll start to choose the right graphemes when spelling, and will learn more tricky words, including 'people,' 'water' and 'friend'. They also learn one new phoneme: /zh/, as in 'treasure.'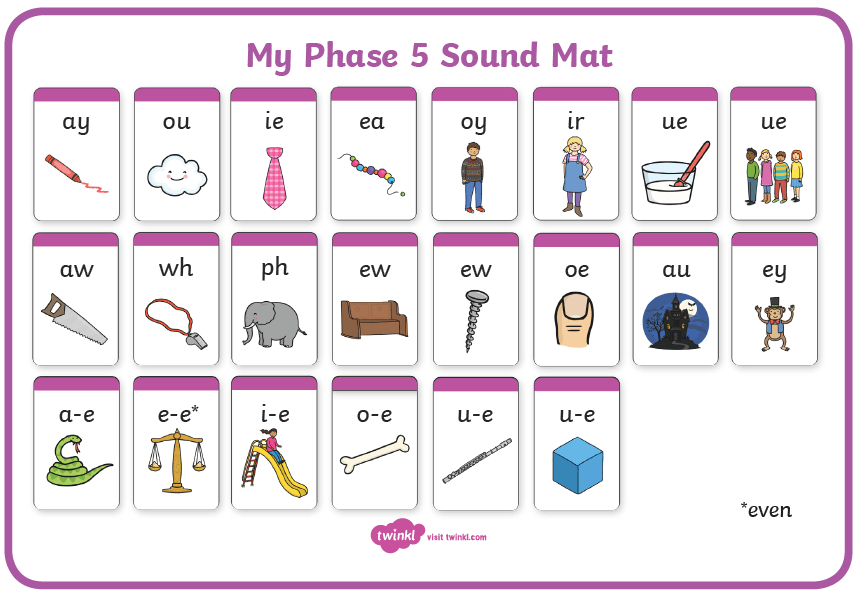 Phase 6
By Phase 6, children should be able to read hundreds of words using one of three strategies:
Reading them automatically
Decoding them quickly and silently
Decoding them aloud
At Staincliffe CE Junior School we cover Phase 6 phonics in spelling lessons.
Every child who needs phonics is taught for 25 minutes per day. They are given a reading book that matches their phonic phase and their weekly spellings are also from words learnt in their phonic phase.
Please click on the links below for Pronunciation of Phonic Sounds – All phases
https://www.youtube.com/watch?v=-ksblMiliA8
https://www.youtube.com/watch?v=UCI2mu7URBc
https://www.youtube.com/watch?v=TkXcabDUg7Q
Please click on the links below for a list of phonics terminology and a list of many useful websites linked to phonics for you and your children to access at home: