Reading update Spring 2017
Teachers in each year group have selected 20 age-appropriate books for us to read. There are a range of different books and they are all clearly marked with a label. After we have read a book we do a book review and for every five books we read, we get a certificate!
Bronze – 5 books.
Silver – 20 books.
Gold – 15
Platinum – 20 books.
Well done to Husnain Ali in 5P who has been awarded his Platinum certificate!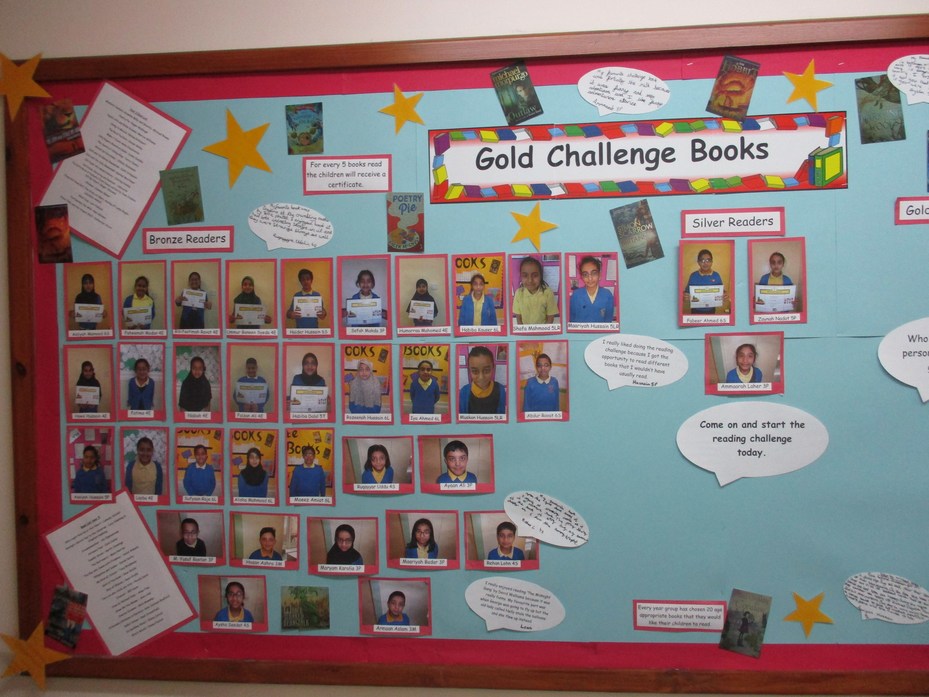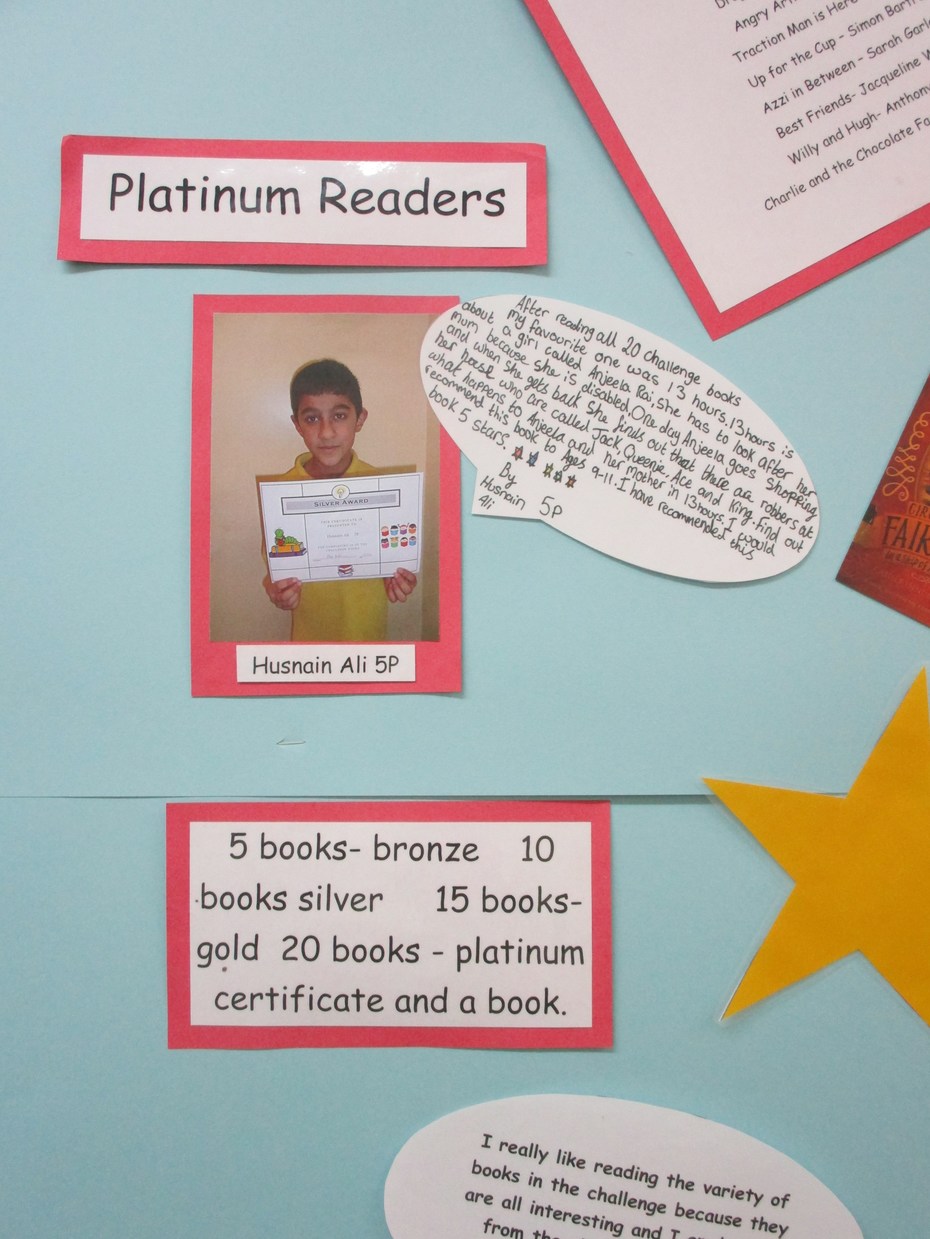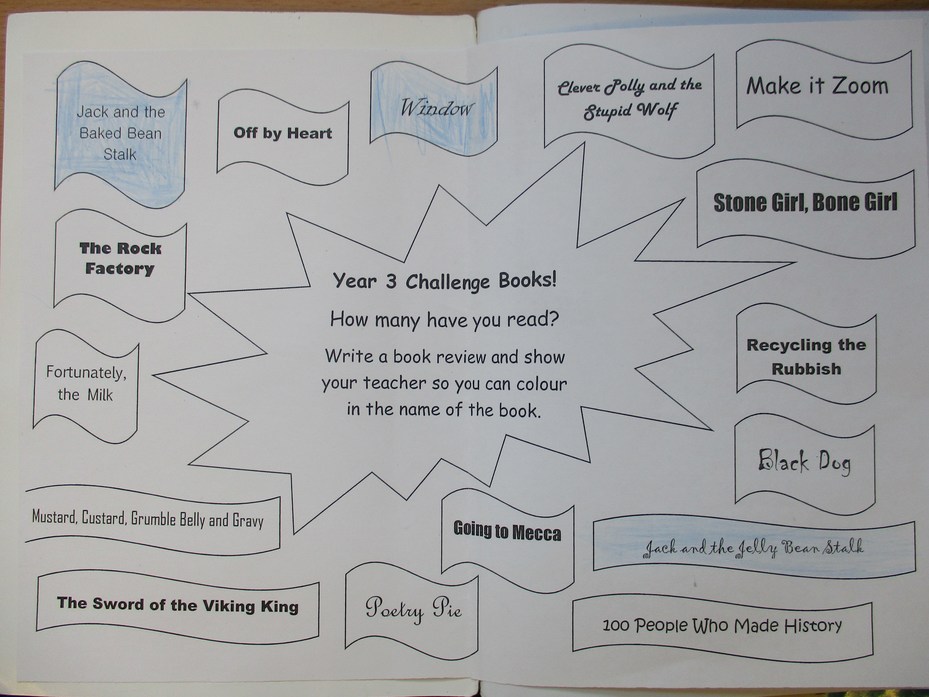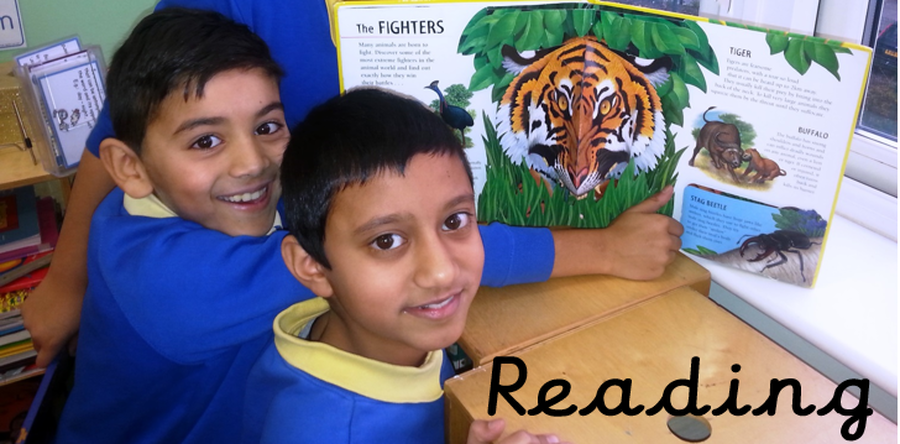 Please listen to your child read at least three times a week.
When listening to your child read, ask some of the questions below to develop their understanding of the text.
Assessment Focus

Key Phrase

Key Questions

1

Decode accurately

Read with understanding.

Follow the link for

What strategies would you use when you get stuck on a word?

What would make sense?

Does this sentence make sense?

Check the picture.

What voice might the character use?

How would the character say ...?

2

Seek, find and understand

Find evidence in the text.

Where and when did the story take place?

Is it true / false that ...? Can you tell me why?

What does (a particular word) mean?

Who is telling the story?

Find a few words/phrases/sentences that tell you about .... (character, setting, atmosphere)

What happened to ...? What happened after ...?

Non-fiction books -

What is the text about?

What is the title of the text?

Who is the author of the text?

What kind of things would you expect to see in this book?

Where would you look to find out what a technical word means?

What is on the cover of the book? What does this tell you about the content inside?

Find something that interests you from the text. Explain why you chose that particular part.

3

Read between the lines (make inferences).

Put yourself in their shoes

(empathy).

How did ... feel? Why do you think they felt like this?

What did ... mean when she/he said ...?

What does (a particular phrase) tell you about what ... was thinking/feeling?

What was ... thinking when ...? How do you know?

What does this character feel about...? How do you know?

How did (character's) actions affect the outcome of the story?

How does (character) feel at this point and what does it tell you about him/her?

Why do you think he felt so (angry/happy etc)?

What is the main idea of this part of the poem/chapter/ article? Find two examples to support your point of view. Why is ... an appropriate title for this text?

What do you learn from ...?

What do these pages/paragraphs tell you about?

Non-fiction books -

Can you suggest ideas for other sections or chapters to go into the book?

When might someone use this book? Why?

What sort of person do you think would use this book?

Which parts of the book could help you find the information you need?

When would you use the contents page in the book?

When would you use the index page in the book?

4

Structure

Why is the text presented and organised as it is?

Why are these words useful to the reader?

Give two ways in which this text is written like a diary/report/discussion etc.

Non-fiction books -

What is the heading/sub-heading for?

How many paragraphs are there?

Why is there a contents page/index/glossary?

How does the layout and presentation of this advertisement help to persuade you to take notice of its campaign/message?

What is the purpose of the writing in the boxes/bold type/italic/etc?

How have the different parts of the text been made clear?

5

Language

Why did the writer use that word/phrase/image/sentence?

What is the impact on the reader?

What does ... tell you about how the speaker is feeling?

What does ... mean?

Why has the author used this feature? E.g. italics, bold, repetition, similes, exclamation marks, headings, bullet points, captions etc.

As a reader, how do you feel about....? How has the author created this feeling?

Non-fiction books -

How does the information in this paragraph try to influence your view of ...?

Which bullet points are fact and which are opinion? How do you know?

Why does this book contain technical vocabulary? Find an example of a technical word. Read the sentence it's in. What do you think it means based on how it's used in the sentence?

Are there any examples of persuasive language?

Why do we need a glossary in a text?

6

The Writer

Writer's purpose.

Writer's attitudes and values.

Which was the most exciting part of the story? Explain why.

What did you learn about ... from ...?

Why is the story called ...?

What impression does the writer give of ...'s character? What makes you feel this?

How does the author make you want to read on?

Non-fiction books -

Why has the writer written this text?

What do you think he/she thinks about the topic?

Have you found any of the illustrations, diagrams or pictures useful? Why/why not?

What makes this text successful?

Can you think of another text that is similar to this one? What are the similarities and differences between them?

7

The Text and the World

How the text fits into its social, historical and cultural context.

How would you describe this story? (e.g. a traditional tale?)

Have you read any other poems/stories by ...?

Where do you think this poem/story is set? What makes you think that?

Have you noticed any things in common, such as themes or language?
Recommended Reading
Follow the links below to view a list of fantastic books for each year group:
Our School Library
"My favourite place in school is our library because it's so calm and there are always lots of new books to choose from."
Aaminah, Student Council member, 4K